More than ever before, sports organisations need leaders and decision-makers who understand the global challenges influencing the future of sport and who are quick to take decisions within an ethical framework.
In my role as UEFA's president, it is important for me to understand the dynamics of a fast-moving environment and to take decisions that will have a positive impact on UEFA's future and foster the growth and protection of European football. This cannot be achieved in isolation: I rely on other leaders who grasp the challenges facing us and have a full understanding of good governance and transparency.
The Executive Master in Global Sport Governance (MESGO) was developed to provide sports industry leaders with the tools to anticipate forthcoming challenges, to exploit the dynamics of the environment and to accelerate the development of sound sport governance. Over the past decade, MESGO has proved to be a transformative pathway for sports decision-makers and has had a positive impact on the development of many sports organisations worldwide.
Cooperation between academic institutions, public authorities and sports governing bodies is a key feature of the MESGO programme. Based as it is on practice as well as theory, the programme involves many high-level practitioners, who provide personal expertise and real-life examples from a range of stakeholder organisations. Furthermore, with industry leaders both speaking and taking part in the programme, MESGO provides participants with a unique network to help them to grow their organisations and nurture their own leadership skills.
We at UEFA have given our full support to the programme in the knowledge that it benefits not only football, but the sporting world as a whole. We can be proud of MESGO's impact. Important new benchmarks have been set, careers have been accelerated, and the programme will continue to play an essential role in giving senior managers the tools and skills to improve sport governance – enhancing sport's overall well-being, unity and credibility at the same time.
Now is your chance to be part of it!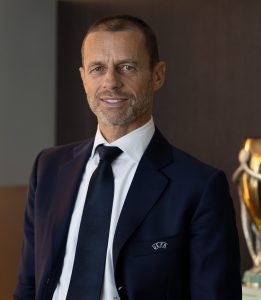 UEFA President