---

---
The International Ice Hockey Federation supports the MESGO because we have experienced first-hand the professional approach of the team of lecturers as well as the valuable content of the various sessions and presentations, which the IIHF will use for its own good-governance discussions.
---
The European Handball Federation is excited to see the successful continuation of the Executive Master in Sport Governance (MESGO) programme having entered its fourth cycle. The MESGO continues to attract top level sport executives and managers proving the value of the well-rounded educational programme that offers a balanced mix of academic and applied content in the areas of media, management, law, and finance. In addition to core areas, the MESGO also responds to relevant societal issues that impact sport.  For those with the clear objective of furthering their international sports management career, this comprehensive programme is indispensable. We continue to be a proud partner.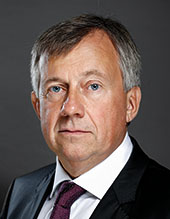 Michael Wiederer
EHF President
---
The MESGO is a window of opportunity for modern sports management executives to get in-depth and first-hand experience of the inner workings of professional sport. Its strength lies in its diversity; people from different sports come together to learn through sharing and analysing their experiences while getting an insight into different approaches by different sports, in different situations and looking at a variety of aspects. Educating our people about how to respond to the challenges of modern sport is a must and European sport stands to benefit from the MESGO programme.
---