---

---
The IIHF is grateful to MESGO for its ambitious and comprehensive approach to sport governance education, which has inspired organisations around the world to take impactful actions to improve their governance policies. To be a part of this network and to witness its grow over the years is a testament to their success. There is much to be learned within this programme, and we encourage all interested sports leaders to get involved.
---
As MESGO enters a new cycle, the European Handball Federation is proud to have supported several candidates through this integral academic step in modern sports management. It is not only the programme's core theoretical and practical elements – finance, law, media and management – that attract high-level sport administrators and managers to MESGO, it is also the certainty that it is an exemplary education that will boost participants' future career prospects. As we continue to support the candidates' success, the European Handball Federation remains a proud partner of the MESGO programme.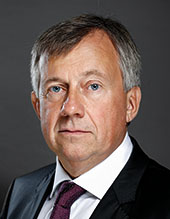 Michael Wiederer
EHF President
---
MESGO is an opportunity for modern sports executives to gain in-depth firsthand experience of the inner workings of professional sports management. Its strength lies in its diversity: people working in different sports come together to learn through sharing and analysing their various experiences. This gives them all an insight into different approaches by different sports in different situations. Educating our people about how to respond to the challenges of modern sport is essential and sport stands to benefit from the MESGO programme.
---
Mastering sport governance is a critical pre-requisite for sports leaders and policy makers involved with this unique environment. A thorough understanding of the emerging challenges to sport, as well as of the relevant international and European law, in particular in respect of human rights, is no longer optional but an absolute must for those who impact sport policies and governance. EPAS therefore welcomes MESGO's programme which promotes this specific expertise and allows us to create synergies between all participants.