The third edition of the Executive Master in European Sport Governance (MESGO) – a unique education programme for sports organisations' elected representatives and managerial staff started on Monday 29 September 2014.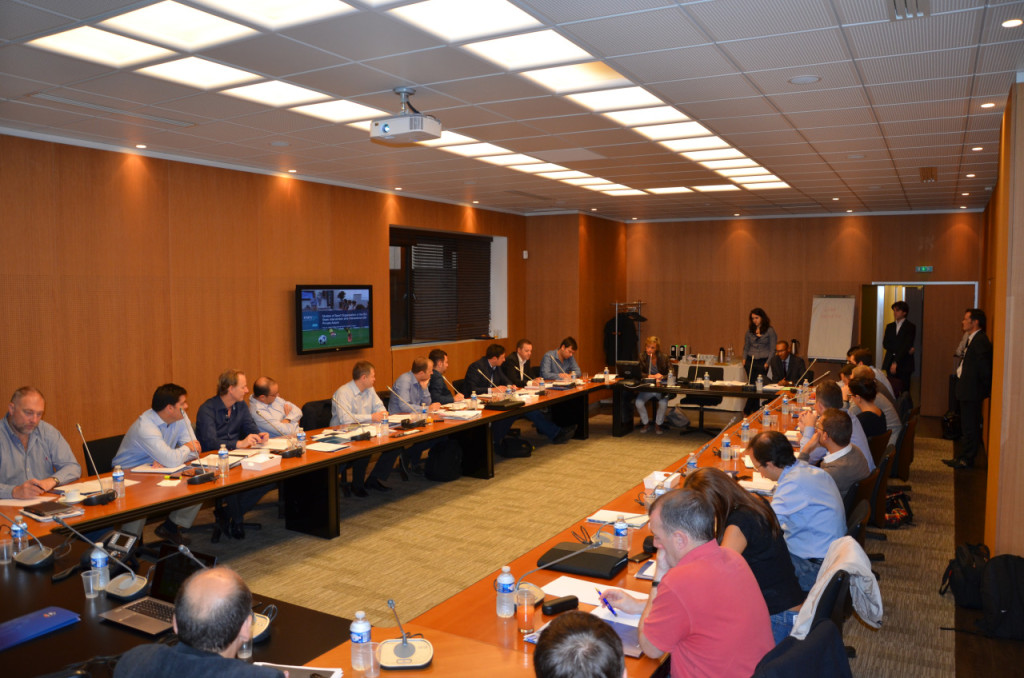 The French Football Federation (FFF) hosted the participants of the third MESGO cohort during one day as part of the first session in Paris.
Within the group of 23 participants in the third MESGO edition there are 19 different nationalities represented. The course comprises nine one-week seminars spread over 18 months and takes place in different European cities, and aims, amid an ever-changing environment in the sports industry, to provide its participants with a better understanding of the key current and future challenges faced by the sports sector, while also focusing on the European dimension involved. The last two sessions will take place outside Europe (New York and Rio de Janeiro), focusing on in-depth studies of other sports organisational models.
In his welcome speech at the Maison de l'Amérique latine on Monday 29 September, the Secretary General of FIBA Europe, Kamil Novak, said that MESGO is not only a fine example of collaboration between the worlds of academia and sport, but also a very real example of a project managed jointly by Europe's major team sports. "This association brings together the European federations for basketball, football, handball, rugby and volleyball, as well as the International Ice Hockey Federation," he said. "MESGO is unique because these federations, representing Europe's top team sports, have been involved in the selection of the content used during the programme ever since its launch.
"No doubt, this explains the success that the programme has enjoyed among top sports executives in Europe and worldwide. In effect, this partnership guarantees that the topics covered are closely aligned with the concerns of sports federations and their partners. This course represents a tremendous platform not only for discussion and the exchange of knowledge between our respective federations, but also with representatives of other bodies such as national associations, clubs, governments or private organisations working in sport."
"You have just started a long journey," UEFA's head of national association development Thierry Favre told the participants. "During the nine forthcoming sessions, you are going to meet incredible speakers – a mix of talented academics and very experienced professionals."
During the first session in Paris dedicated to the context of international sport, the participants were hosted at the Executive Education Department of Sciences Po, at the French National Olympic Committee (CNOSF), at the French Football Federation (FFF), at Roland Garros and at the Maison de l'UNESCO.
Among the keynote speakers invited during that week to present different topics related to this session, the participants were lucky enough to meet Lindsey Eckhouse (NFL), Etienne Thobois (Keneo), Gilbert Ysern (French Tennis Federation) and Jérôme Valcke (FIFA).
The second session will take place in Switzerland from 17 to 21 November.