From Monday 19 to Friday 23 June 2017, the MESGO IV participants were in Barcelona for the sixth session of the programme, which was dedicated to the organisation of sports events.
Organised by Francesc Solanellas and Andreu Camps i Povill, both professors at INEFC (Institut Nacional d'Educació Física de Catalunya) which has been an academic partner of the MESGO programme since its first edition in 2010, this sixth session was aimed at examining the critical elements in the successful organisation of sports event.
Introduction to Session 6 by Francesc Solanellas, professor in sports management at INEFC, at the Euroleague Basketball headquarters.
Various topics and issues were tackled during the week, in particular:
Previous experiences (Olympic Games, events, cities and best practices);
Bidding process (Why? What? When? Where? How?);
Governance models and main stakeholders;
Implementation of the event, with a focus on risk and crisis management;
Post-event issues (legacy, knowledge transfer and economic impact).
The MESGO session was held in various locations including the Euroleague Basketball headquarters, Barcelona World Race, Barcelona-Catalunya circuit and the RCD Espanyol Stadium.

Visit of FC Barcelona's facilities at Camp Nou.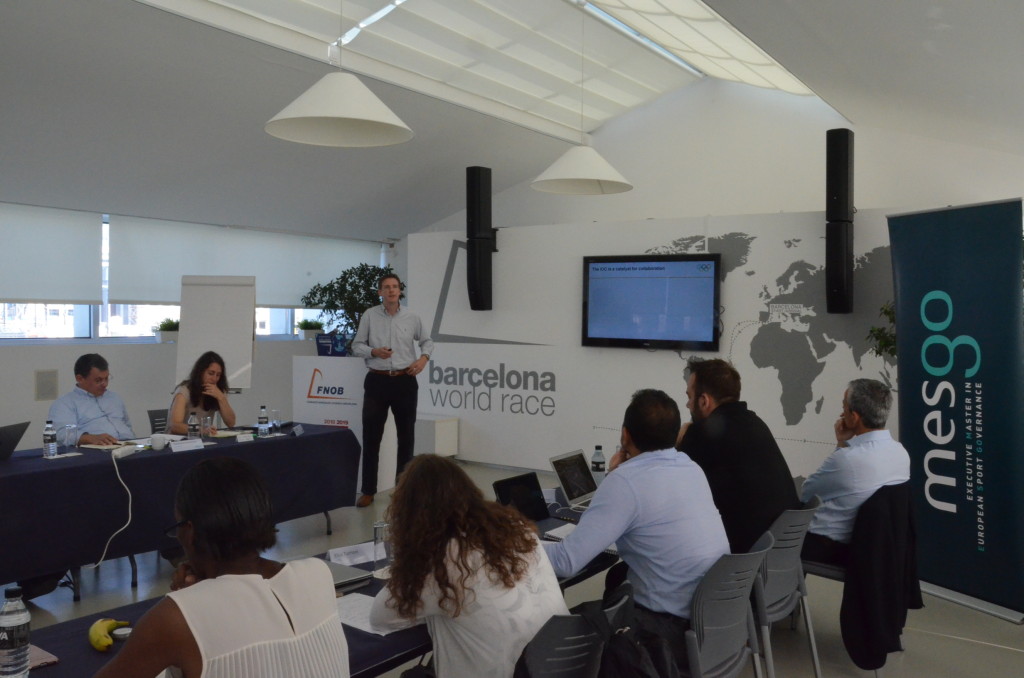 At the Barcelona World Race headquarters: presentation about knowledge transfer for the Olympic Games by Chris Pollard, IOC consultant.
We would like to thank all the speakers that contribute to this session: Jordi Bertomeu Orteu and Roser Queraltó (Euroleague Basketball), Chris Pollard (IOC consultant), Javier Sobrino (FC Barcelona), Vicenç Aguilera (Circuit de Barcelona-Catalunya), Pau Serracanta i Marcet (Dorna Sports), Petr Stastny (IAAF Diamond League) and Mark Fenwick (architect of RCD Espanyol Stadium), to name only a few.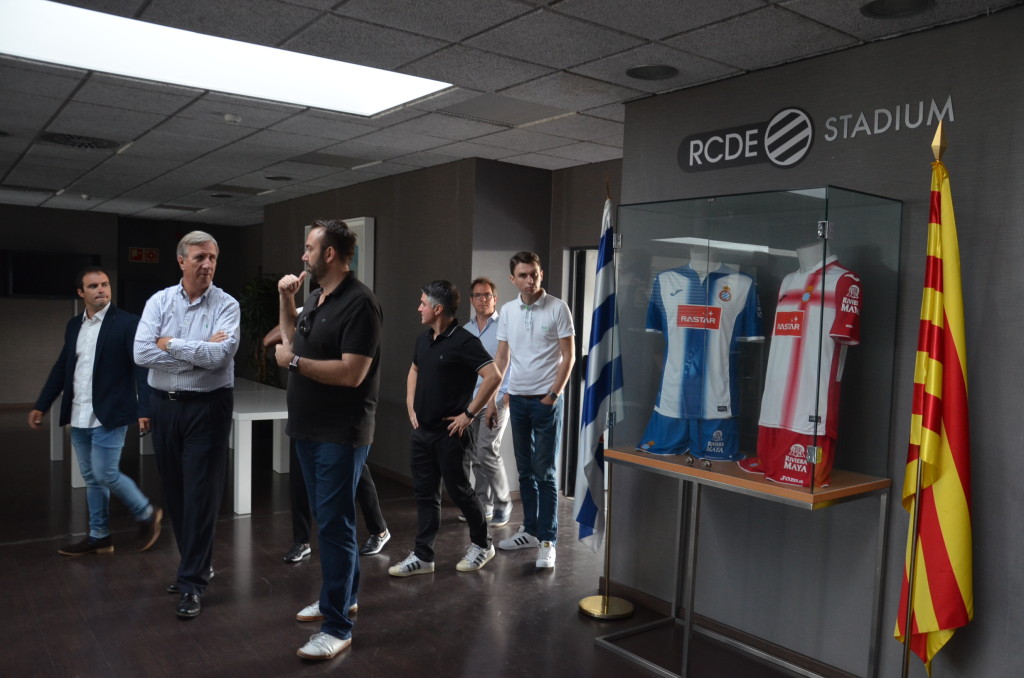 Guided visit of RCD Espanyol Stadium by its architect Mark Fenwick.
It was also an opportunity for the participants to listen and discuss with key representatives of MESGO sports partners: Lisa Wiederer (EHF Marketing), Jacques Hussy and Grégory Lepesqueux (UEFA) and also two former participants: David Rouger and Elkhan Mammadov. The MESGO team is very grateful to all of them for their availability and willingness to share their experiences.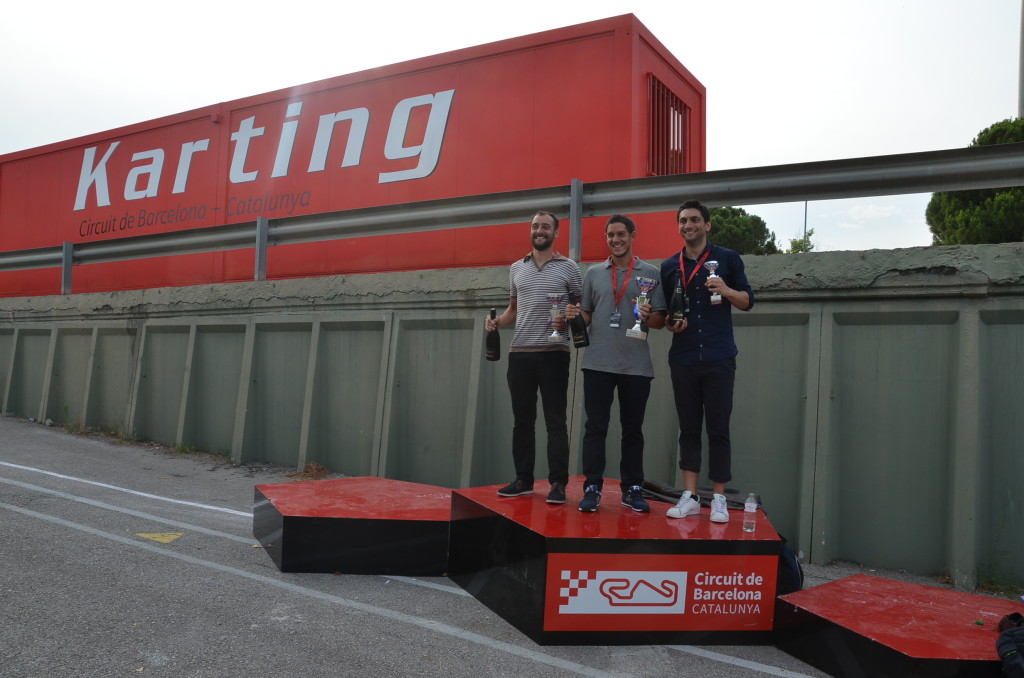 The winners of the karting race at the Circuit de Barcelona-Catalunya.
On Thursday evening, a round-table discussion about the future of sports events was organised at the Museum and Study Centre of Sport Doctor Melcior Colet with various experts: Dr Holger Preuss (Professor at Johannes Gutenberg University of Mainz), Jean-Loup Chappelet (Professor at IDHEAP, University of Lausanne), Iain Edmondson (Head of Major Events at London & Partners) and Enric Truñó i Lagares (sports consultant and former commissioner responsible for the management of the Barcelona-Pyrenees bid to host the 2022 Winter Olympics). After an introduction speech given by Gerard M. Figueras i Albà, (General Secretary for Sports at the Generalitat de Catalunya), the panel was moderated by Francesc Solanellas, professor of sports management at INEFC and organiser of this discussion.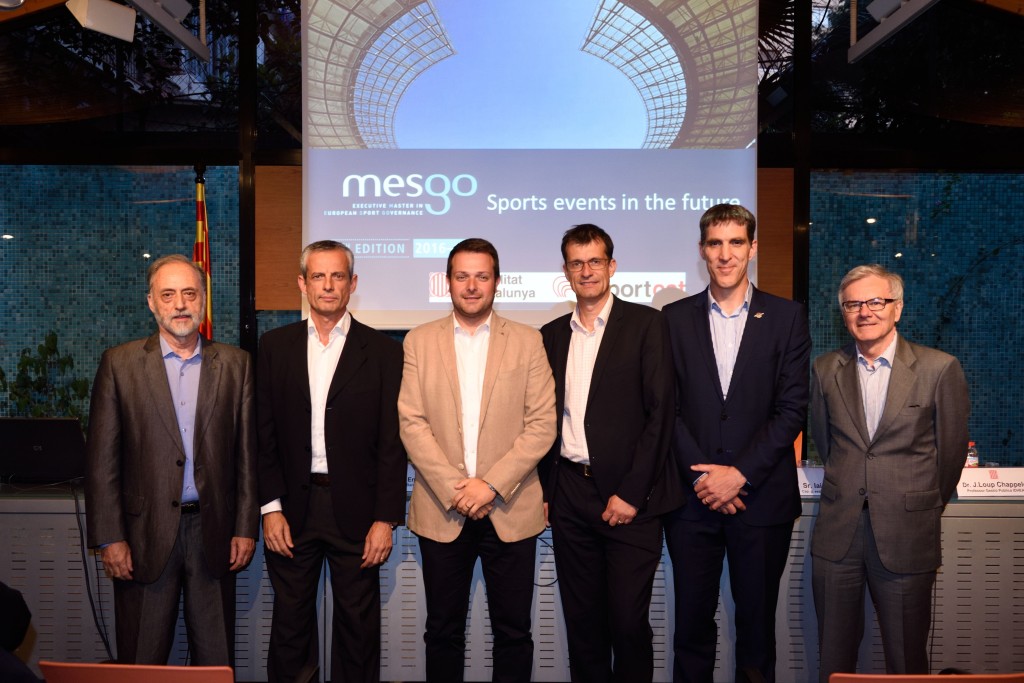 The speakers of the round-table discussion (from left to right): Enric Truñó i Lagares, Francesc Solanellas, Gerard M. Figueras i Albà, Dr Holger Preuss, Iain Edmondson and Jean-Loup Chappelet.
On Friday, the participants gave oral presentations on their thesis subjects to their mentors and members of the Scientific Committee; a first compulsory step towards the completion of their Executive Master's degree in European Sport Governance.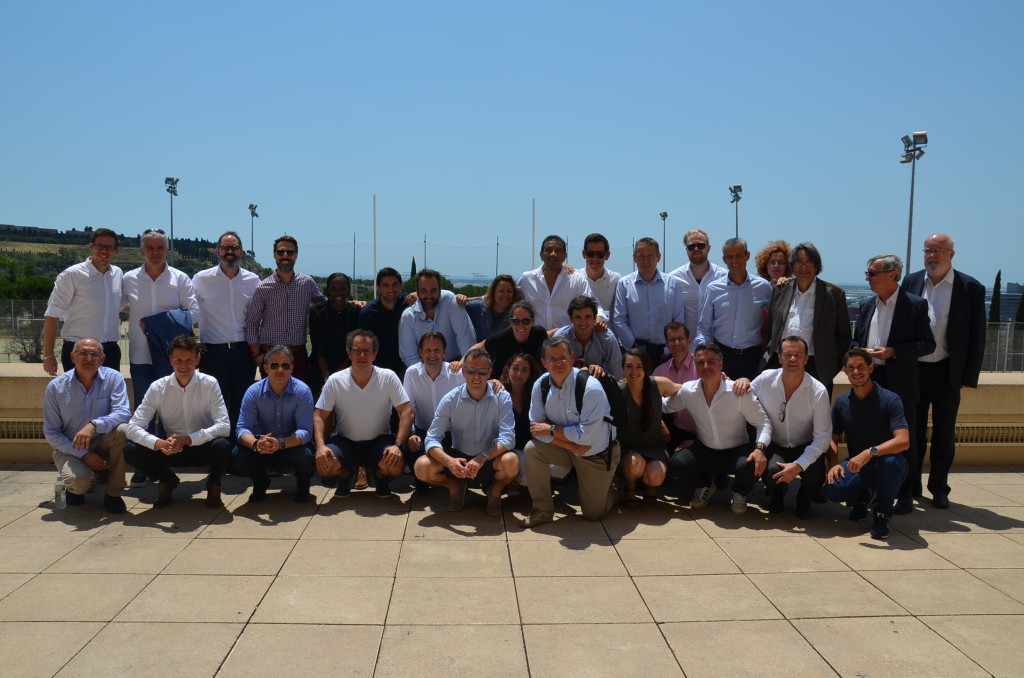 The MESGO team at INEFC.
The next MESGO session, which will focus on ethics, will take place in Mainz and Frankfurt am Main (Germany) from 25 to 29 September 2017.