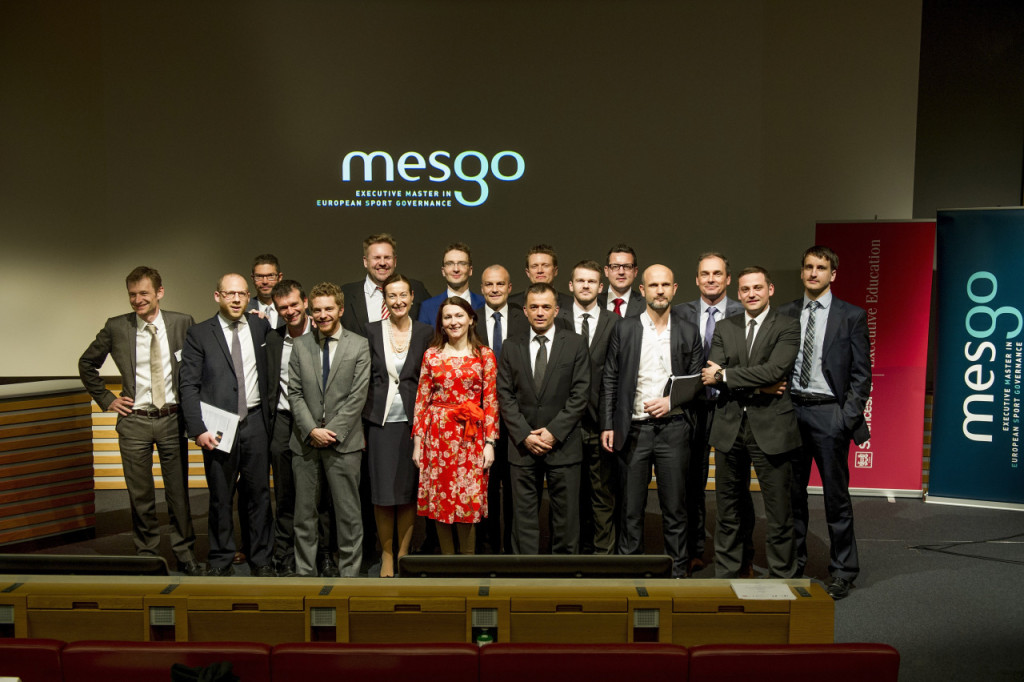 After 9 sessions over 18 months, the second Executive Master in European Sport Governance (MESGO) course has been completed with 17 graduates receiving their certificates at the graduation ceremony in Nyon, at the UEFA headquarters.
"I hope you have found MESGO enriching", declared UEFA General Secretary Gianni Infantino to the graduates. "A Master's programme like this is absolutely necessary in today's sporting world. He added: "Good governance is not only about taking decisions, but also assuming responsibility in taking decisions. I hope you have become aware of this in the past 18 months. MESGO acts as a benchmark that will help shape the future of sport. UEFA is very proud to contribute to this programme, and we are also learning a lot from the other team sports federations who are involved."
Star guest speaker at the ceremony was the former athlete from the United Kingdom, Colin Jackson, whose outstanding career, in particular as a 110-metre hurdler, brought him an impressive array of world, European and domestic records and an Olympic silver medal. Colin Jackson gave a stirring keynote motivational speech to the graduates, speaking of the need for personal focus, commitment, discipline and responsibility – elements that he had been taught as a young teenage athlete and which helped contribute to his later successes.
Two participants of the course stressed MESGO's importance. "To have these studies is a once-in-a-lifetime chance," said Football Union of Russia deputy CEO Ekaterina Fedyshina. "We have all had the chance to step back from our daily work and reflect on our sport's direction and long-term vision – and we have learned important knowledge from experts," added European Club Association (ECA) head of public and international affairs David Frommer.
Applications are being invited until 15 April 2014 for the third edition of MESGO, online.