From 20 to 24 April, the MESGO III participants were back in London for a week dedicated to strategic marketing. Organised by Peter Willems, head of marketing activities and sponsorship at UEFA, this session included several presentations by marketing specialists in various sectors, often outside sport (Coca-Cola, YouTube, IMG).
The week started with a methodological workshop on academic research, led by Sean Hamil (director of the Birkbeck Sport Business Centre, one of the academic partners of the MESGO programme), in order to help the participants prepare their theses. Then, the MESGO team was welcomed in the headquarters of WPP Brand Union by its chief executive, Sir Martin Sorrell, for an introduction to the session proper.
Tuesday kicked off with a tour of Lord's Cricket Ground followed by a sponsorship round table with Campbell Jamieson, general manager – commercial at the International Cricket Council.

Guided tour of Lord's Cricket Ground
At Sky Studios on Wednesday, Aditya Aditya, senior broadcast rights manager at the International Olympic Committee (IOC), presented the future Olympic channel. In the afternoon, Frank Dunne, editor at TV Sports Market (part of SportBusiness Group), moderated two round tables in the presence of Guy-Laurent Epstein, marketing director at UEFA. The participants were able to consolidate what they would learn in the evening with a visit to the Sky TV studios before watching the UEFA Champions League semi-final between the two teams of Madrid.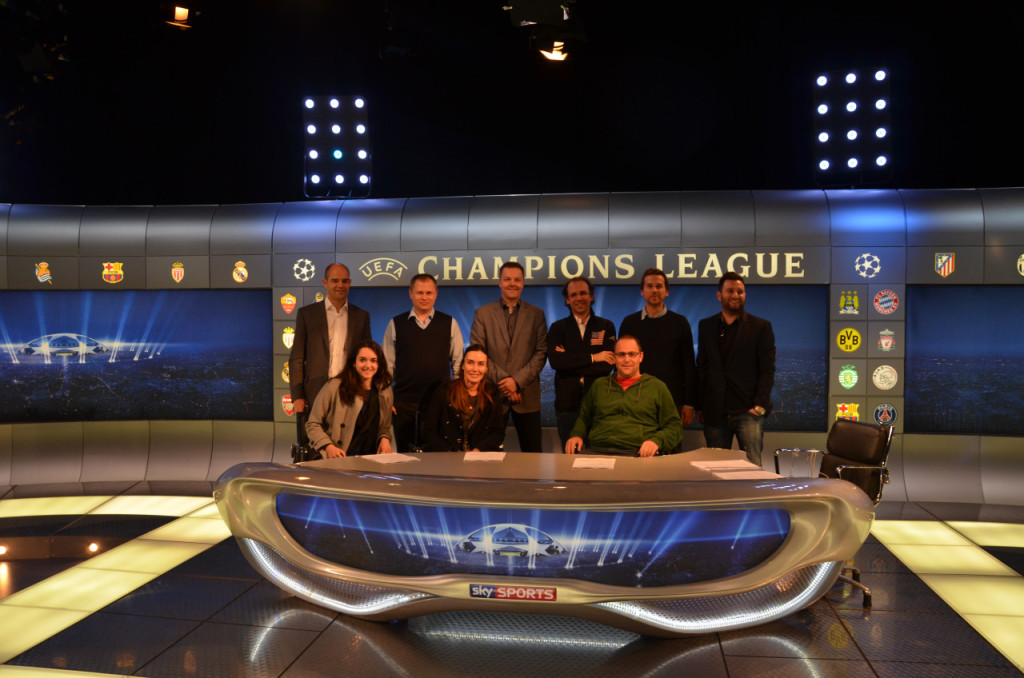 Visiting Sky Studios
From left to right (top): Peter Willems (UEFA), Adrian Ixari (Football Association of Moldova), Timo Huttunen (Football Association of Finland), Tiago Craveiro (Portuguese Football Association), Julien Mordacq (LOSC Lille) and Andreas Savvides (PKF Savvides & Co Ltd.).
From left to right (bottom): Julie Trosic (MESGO manager at the Centre for the Law and Economics of Sport), Barbara Moschini (Italian Football Association) and Rotem Kamer (Israel Football Association).
At Twickenham on the Thursday, the participants met Mark Killingley, head of digital and CRM for the Rugby Football Union (RFU), before one group presented their case study on the London 2017 World Athletics Championships, in the presence of Fiona Green, director and co-founder of Winners.

Presentation about the RFU's digital strategy by Mark Killingley at Twickenham

The MESGO III participants at Twickenham
To close the session on the Friday, the MESGO group attended a presentation about sports marketing by Geoff Newton, executive director of the Tennis Foundation, before visiting Wimbledon, London's world-famous tennis venue.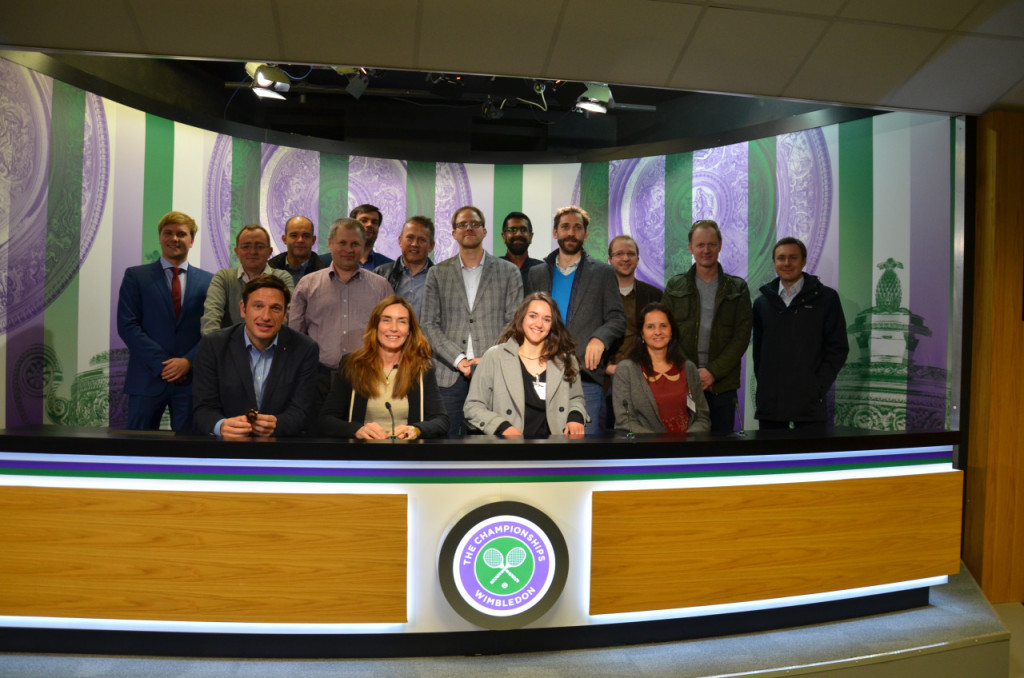 The MESGO group in the Press room at Wimbledon.
From left to right (standing): Manuel Ruess (UEFA), Mhamed Zeghari (Mohammed VI Football Academy), Peter Willems (UEFA), Adrian Ixari (Football Association of Moldova), Balázs Nemcsik (Hungarian Water Polo Federation), Virgar Hvidbro (Faroe Islands Football Association), André Kruse (European Flying Disc Federation), Piara Powar (Fare Network), Mario Woldt (German Rowing Federation), Florian Simmen (UEFA), Jan Peter Dogge (Royal Netherlands Football Association) and Thomas Junod (UEFA).
From left to right (sitting): Noel Mooney (UEFA), Barbara Moschini (Italian Football Association), Julie Trosic (Centre for the Law and Economics of Sport), and Camila Rodrigues Barbosa (International Paralympic Committee).
The next MESGO session will take place in Barcelona from 15 to 19 June, culminating with an alumni event on the last day, bringing together participants past and present from the three MESGO editions.