Knowledge-sharing will continue between former MESGO participants thanks to the MESGO Alumni Association, which was officially founded and held its first general assembly in Barcelona on 19 June.
Before the formal general meeting, MESGO I and II graduates joined current MESGO III participants for a discussion with Damien Comolli, who hold senior positions such as former sports director for AS Monaco, AS Saint-Etienne, Arsenal FC, Tottenham Hotspur FC and Liverpool FC. In a relaxed atmosphere, Damien Comolli talked about his vast experience in leadership and the management and culture of football organisations. The discussion was led by David Frommer, MESGO II graduate and president of the MESGO Alumni Association.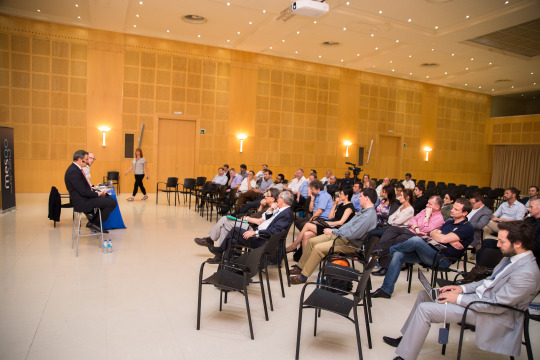 Alumni event at INEFC with Damien Comolli
This event reflects the MESGO organisers' support of interaction and exchanges that foster learning and enrich football governance. The discussion was followed by the inaugural general assembly of the MESGO Alumni Association, whose objectives were discussed and voted on. The association was created to produce a formal network of top professionals in sports governance. The board is made up of the following members:
– President: David Frommer, Head of International & Public Affairs at the European Club Association (ECA)
– Treasurer: David Rouger, Marketing, TV and Events Manager (and independent consultant) at European Aquatics (LEN) and Venue Operations and Broadcast Manager for UEFA
– Secretary: Pedro Velazquez, Director of Social Innovation & Empowerment at the International Centre for Sport Security (ICSS)

Alumni event at INEFC
The MESGO Alumni Association's inaugural general meeting was followed by a bus tour of Barcelona and dinner by the beach.
Watch a video of the MESGO session in Barcelona and the MESGO alumni event also held in the Catalan capital in June 2015.