The new MESGO cohort met in the City of Light. "Context of international sport" was the main focus of this first session.
The first session of this fifth MESGO edition took place from 24th to 28th September 2018 in various locations across Paris: Molitor, the French Football Federation (FFF), the French Basketball Federation (FFBB), Paris-Saint-Germain Football Club (PSG) and the International Automobile Federation (FIA).
The main topic, « Context of International Sport », was covered at institutional, legal and economic levels and integrated into the social, technological and media contexts. Current challenges faced by the sports movement were addressed and potential solutions discussed.
During the week, the participants had the opportunity to interact with a large panel of experts in their field, such as:
Gabe Shawn Varges, Senior Partner, HCM International
Tim Crabbe, CEO, Substance
Mogens Kirkeby, President, International Sport and Culture Association
Samy Ouerfelli, General Manager, ESL France
Lambis Konstantinidis, Director of Planning & Coordination, IOC/IPC Relations and IKM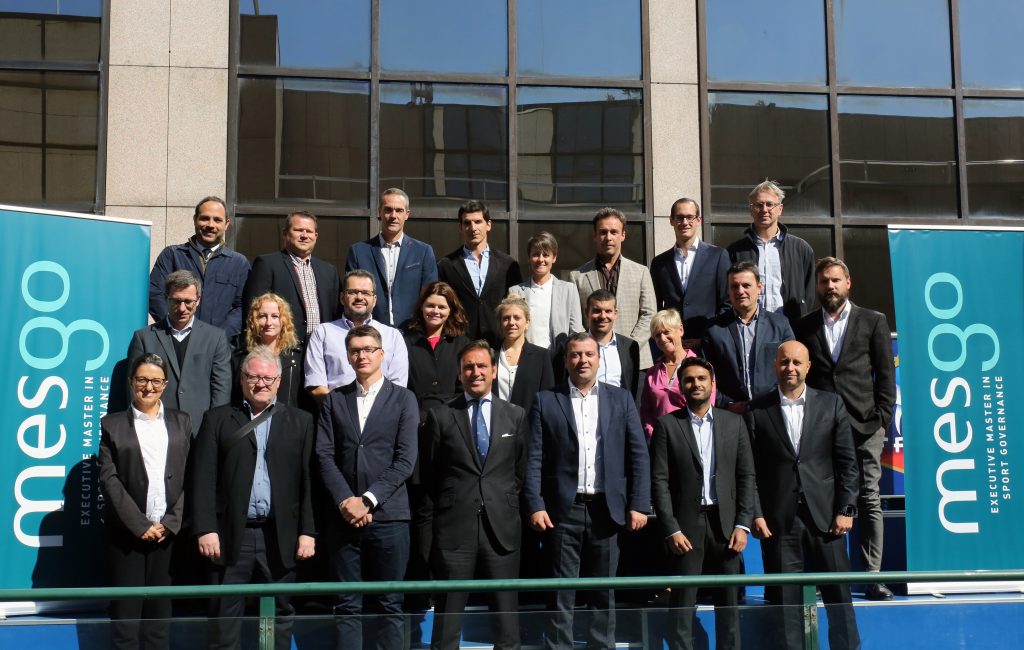 The new MESGO cohort at the French Football Federation
On Thursday night, the participants, the speakers and several graduates of the previous MESGO editions enjoyed a dinner at La Maison de l'Amérique Latine where they had the chance to taste the fine French cuisine. We took benefit of this occasion to give their diploma to the four MESGO IV participants who successfully defend their thesis prior to this event. Congratulations to Andrew, Patrice, Fiona and Doug!
Next stop will be in Lausanne and Nyon, Switzerland, from 26th to 30th November. "Governance of Sports Organisations" will be the main focus for this second session of the 5th MESGO edition.